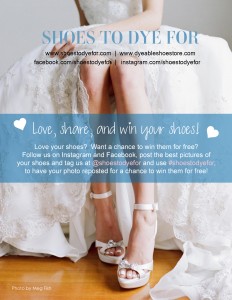 Did you purchase your beautiful shoes from us and love them?  Now is your chance to show them off for a chance to win them for free!
Here are the rules:
1. Follow us on Instagram @ShoesToDyeFor or Facebook (www.facebook.com/shoestodyefor)
2. Post the best pictures of your shoes from your wedding day, tag us on Instagram or Facebook, and use #ShoesToDyeFor
3. Don't have Instagram or Facebook? Email your pictures to us at shoestodyefor@gmail.com
4. We will randomly select a winning picture, and if your picture is selected, your shoes are free!
That's it!  Post for your chance to be rewarded for getting social with us and showing your shoes off!*
*Winner will be contacted via social media or email. Verification of purchase will be required. We have the right to use submitted pictures for marketing and promotional uses.  Rules of contest might change without prior notice.